Overall updates (since the last update)
Hello everyone!
This is the first update from Reap Benefit on Grove.
We are on a mission to enable 1 million citizens to engage in civic & environmental problem solving in their local communities to reshape citizen participation & strengthen local self governance by 2025. In this endeavour, we are building and growing the Solve Ninja Movement of young everyday leaders who can mobilize ownership of their street, city, country; one act at a time.
In the last eight years, we have activated 50k + Solve Ninjas, who have taken 94k + civic actions, started 3143 campaigns and built 552 civic innovations to address local environment and civic issues across the country. This has saved 54.3 million litres of water, 1.7 million units of electricity and diverted 187 tonnes of waste from landfills.
Progress on the goals listed while on-boarding
Solve Ninja Leadership Accelerator: We kicked off the third cohort of our Solve Ninja Leadership Accelerator program (previously called Civic Leader Incubator) in July. 22 enterprising individuals (14 of them are women leaders) from Guwahati, Kanpur, Hosur, Patiala and Faridkot among other places are a part of the program. They are either working on strengthening their social enterprises or building solutions for the problem statements they have been working on. Solving the solid waste segregation issues in Kanpur, village development plans, inclusive and accessible education for underserved children are a few problem statements the participants are working on. To see how the program has been designed, click here.
Solve Ninja Technology Platform: The platform (comprising the WhatsApp chatbot, IVRS, Neighbourhood Dashboard and WebApp) provides an easy to use interface that allows citizens to access data that can inform their participation in local environment and civic issues. It also allows them to input hyper-local data from their local communities, hence bridging the information gap, building community ownership of data and solutions, and making data more accessible to end stakeholders. We have initiated work to integrate the different tools across our technology platform. We have more than 68k registered users on the chatbot who have exchanged 1.16 million+ messages. We also have local elected representatives across India testing our Solve Ninja chatbot to engage with citizens in their constituencies
Playbooks: We have initiated a few experiments to use our civic-technology tools to create playbooks to provide citizens support as they take civic and environmental actions in their local communities.
Fixing blackspots using behaviour science nudges to clean and maintain garbage blackspots for 100 days
Call Your Representative to build a culture of calling and holding elected representatives accountable
Mapping Primary Health Care Centres Realizing the need for equitable immunization and healthcare delivery, we launched #ownyourPHC campaign that allowed crowdsourcing of 136 PHC audit responses and 255 citizen feedback on PHC/vaccine centres through our technology tools from various districts across India
Any challenges
Communication has been our Achilles heel and we are struggling to share our learnings and failures consistently to the larger community. Movement building needs focussed communication as a way to galvanise citizens to start owning their streets, neighbourhoods and cities.
Any new avenues of collaboration (with other Grantees of RCF or other NPO/NGO)
We have initiated conversations and partnered with organizations across various thematics- environment and climate change, local governance and 21st century life skills.
MASS (Mahila Abhivrudhi Mattu Samrakshana Samsthe)- Belgaum, i-Saksham - Bihar, Sanjhe Sapne- Himachal Pradesh : implementing youth programs on environmental and civic problem solving in local communities
Non-profit organizations alliance through GAME : Project aimed at building 21st century skills and entrepreneurial mindset
Initiated conversations with Centre for Wildlife Studies, Water For People, CORO, Buzz Women, Kaivalya Education Foundation, Desh Apnayen Foundation among others to build momentum around civic and environmental problem solving through youth action and leadership
Highlights from the initiatives being undertaken as part of your organization
Citizens driving government action: In collaboration with Indus Action and Bangalore Apartment Federation, citizens across the city made applications for 1,359 domestic workers via our WhatsApp chatbot to get COVID compensation by the government. In a powerful display of active citizenry, more than 16 lakh rupees will be sanctioned.
Solve Ninja Community Initiatives: In our bid to accelerate our mission, Solve Ninjas have started or will start creating communities across Karnataka (Bangalore, Hubli, Belgaum, Nelamangala), Tamil Nadu ( Chennai, Cuddalore), Punjab, Bihar and Himachal Pradesh. These Solve Ninjas have also experimented with communities around Local Policy (discussions, ideas around 73rd and 74th amendment and local climate) and Local Solutions ( to build and implement ideas to solve local issues ).
Outcomes you are chasing for the next 6 months (these can remain the same if unchanged since the last update)
The outcomes we are chasing for the next 6 months (till March 2022) remain the same
KPIs (please use this section to let us know of the impact and reach of your work since the last update)
This is our first update.
Can Rainmatter be of help with anything at all
Requesting connections with someone in the team who has worked on Grove. We have built the Solve Ninja forum with an aim to:
Mention local circulars and policies around the environment and civic issues ( city/village wise and someday even locality wise)
Mention all the best practices by citizens across the country
Have features like polls, ratings, etc; so that citizens can engage as well
Nudge Expert: Our Solve Ninja Chatbot is approaching 100,000 users from different parts of the country ( Punjab, Karnataka, Tamil Nadu, AP). The chatbot is currently being used by youth citizens from the age of ( 13-25) and also elected representatives to improve citizen engagement around local issues across the country. We are looking for someone, who can help us devise and execute nudge-based behaviour communication to motivate youth and citizens to take the small environment and civic actions in their neighbourhood.
Any additional details you would like to provide
We have been recognized by the World Economic Forum as one of India's Top 50 COVID-19 last mile responders. Our COVID relief work focussed on the underserved communities, and followed a decentralized approach through our citizen network and open technology tools (WhatsApp chatbot,dashboard and IVRS). It allowed us to bring together civil society organizations, citizens and governance systems to facilitate COVID relief work for more than 11.6 lakh people. During the second wave, we enabled delivery of 10,00 masks,102 Oxygen cylinders, 200 oximeters and 89 ration kits across Karnataka, Odisha, Assam, Nagaland. We were pivotal in the creation of COVID Bed Task Force, which allowed 20 non-profits in Bangalore to collaborate towards addressing duplication of bed requests in hospitals by centralizing request data and decentralizing fulfilment. More than 300 such requests were addressed in a span of two months. We initiated the #ownyourPHC campaign to crowdsource information regarding public health centres and their readiness in providing COVID relief support. We crowdsourced 136 PHC audit responses and 255 citizen feedback on PHC/vaccine centres through our technology tools from various districts across India. Highlighting our work, The Times of India published an article on the state of PHCs in Karnataka. We are also researching and collating COVID relief related best practices on the Solve Ninja Forum and are now working towards developing India's first disaster management stack that allows a comprehensive mapping of vulnerable areas in specific geographies and innovating scalable delivery models to enable efficient relief support during future pandemic situations.
Please also share any images or videos that you have documented as part of your work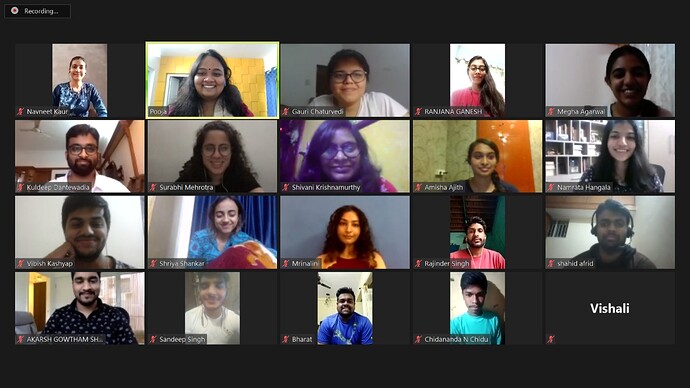 The first session for the third cohort of Solve Ninja Leadership Accelerator in progress