About us
Vidhi Centre for Legal Policy is an independent think-tank doing legal research and assisting the government in making better laws for the public good. Vidhi has a multi-disciplinary team that conducts desk-based analysis and interacts closely with grassroots activists, civil society groups and government agencies. Through its focus on studying the impact of environmental laws and judgments, it hopes to develop rigorous compliance indicators that will promote accountability in environmental governance and ultimately further environmental justice. The environment team at Vidhi is working in the area of policy and legal aspects of wildlife and forest protection. Our research work is designed around two main thematic areas- i) species and habitats; ii) forests and corridors
1) Overall updates (since the last update)
Following is a summary of our present work
A. Regulation of Exotic Live Species in India
Trade in exotic live species is regulated globally by the Convention on International Trade in Endangered Species of Wild Flora and Fauna (CITES). India, being a party to CITES prohibits the international trade of endangered wild species.
The Ministry of Environment, Forest and Climate Change, Govt of India issued an advisory on 16 June 2020 which granted a six month amnesty period during which individuals in legal or illegal possession of species listed in the CITES appendices could make declarations to this effect. Vidhi is carrying out a review of the advisory in terms of domestic laws and India's obligation under CITES.
The project is also proposed to look into other legal challenges in regulating exotic species in India. The findings will be published as a series of blogs highlighting specific legal problems.
B. Monitoring the declaration of Eco-sensitive Zones around Protected Areas
Eco-sensitive Zones (ESZs) around Protected Areas (PAs) are declared under Environment (Protection) Act, 1986 with the aim to create 'shock absorbers' for protected areas. The States are supposed to protect wildlife corridors connecting PAs as the ESZ as there is no legislation dedicated to their protection. The extent of ESZs could range from 0-10 kilometres and in some exceptional cases it can even go beyond that and a zero extent zone is, in effect, non-existent. Despite the importance of ESZ, in several cases, ESZ of a bare minimum (0-1 km) has been proposed mostly to protect the industrial interests that operate in the vicinity of the PAs.
Reports and litigations on ESZs indicate that the ecological considerations such as the presence of wildlife outside PAs, wildlife corridors between PAs and other forests are often ignored while notifying these ESZs. The available literature on ESZs is limited to newspaper articles where they focus on individual PAs. Comprehensive research on the process of identification and declaration of ESZ and irregularities and shortcomings in the same is missing. Amidst this limited and fragmented literature, the environment team of Vidhi is looking into the issue deeper by reviewing the available secondary literature, sourcing information from different states and consulting with various stakeholders.
2) Progress on the goals listed while on-boarding
You can read the first article in the Exotic Species series Only Carrots, No Stick: Regulating the Trade in Exotic Live Animals in India
A comprehensive list of all PAs along with the status of their ESZs are prepared. Most of the RTI applications has been sent to various forest offices of the respective Protected Areas in different states.
3) Any challenges
Due to the sudden spike in Covid and the lockdown, we have faced some challenges in following the schedule as planned. There is also issues with filing RTIs to states who do not have online RTI portal. All the RTI applications which required to be sent by postal services were kept on hold till May.
4) Any new avenues of collaboration (with other Grantees of RCF or other NPO/NGO)
Our research requires lot of interaction with other NGOs and experts working on specific conservation problems. We are very much interested to work with other organizations for policy and legal matters related to conservation of wildlife and forests. We are in touch with CWS and NCF, and are looking for more such interactions in future.
5) Highlights from the initiatives being undertaken as part of your organization
The team has recently published a peer-reviewed paper titled "Safeguarding Wildlife Beyond Protected Areas in India: A Review of Laws, Policies and Other Conservation Tools" in Rajiv Gandhi National University of Law Student Research Review Journal volume 7, Issue 2 which also carries a foreword by Justice DY Chandrachud.
6) Outcomes you are chasing for the next 6 months (these can remain the same if unchanged since the last update)
The outcome for research project on the eco-sensitive zone is expected to be a comprehensive evidence-based report on the issue which is expected to influence the environmental regime around the conservation of wildlife corridors and buffer areas around Protected Areas in India.
Vidhi is also planning to start a few more research projects with one proposed to be started in early July. More details in the next update.
7) KPIs (please use this section to let us know of the impact and reach of your work since the last update)
The research on exotic live animals is one of the less explored area of wildlife regulations. The shortcomings highlighted in the first article is expected to influence the public narrative, educate lawmakers and other stakeholders involved in the controlling trade in exotic wildlife.
The peer-reviewed paper on safeguarding wildlife beyond Protected Areas highlighted the issue of fragmentation of wildlife habitats in India and the need to conserve them for the long-term conservation of India's wildlife. It reviewed all domestic laws and explored the possibilities to protect wildlife habitats in areas where the declaration of a Protected Area under Wildlife Protection Act, 1972 may not be possible. This paper also listed various other non-legal conservation tools adopted by government and international organizations in facilitating the conservation of critical wildlife habitats. It can be used as a legal guidance document for conservationists working for the protection of species and their habitats.
8) Can Rainmatter be of help with anything at all
We may need help in our ongoing research on eco-sensitive zone once we get the information. The research may need support in the form of mapping, analysis and verification of information for which we might need the help of organizations working at ground level.
9) Any additional details you would like to provide
NA
10) Please also share any images or videos that you have documented as part of your work
Our work is mainly desk-based research. We will post photographs when we conduct our field visits or organize any event. However, there is one graphical representation of our findings from the research on trade in exotic species which we collected from Ministry of Environment, Forest and Climate Change. Pasted below: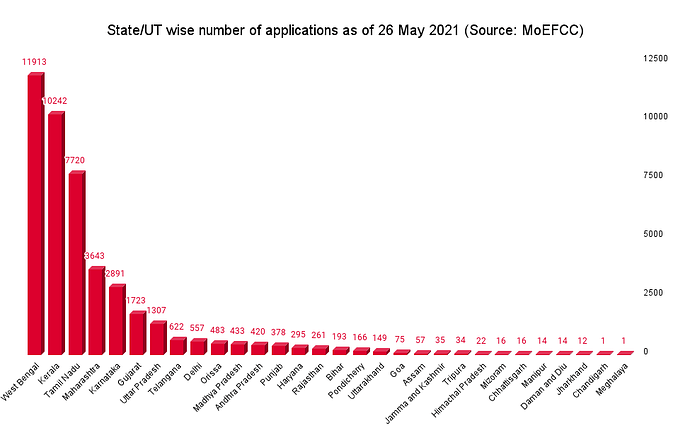 Source- VCLP