About us
Hello to the readers and members of the Grove Forum. This is the first Grove update from Technology for Wildlife Foundation (TfW), and we'll update this thread periodically with more news about our projects and activities.
At TfW, our mission is to amplify conservation impact through the use of appropriate technology. Our work is mediated by our experience, extensive research and inclusive stakeholder consultations. We have domain expertise in geospatial analysis and robot operations, and conduct both our own projects as well as collaborative projects with individuals and other organisations. As of June 2021, we are a registered not-for-profit organisation (a Section-8 company) based out of Goa, India
Overall updates (since the last update)
We welcomed new team members to the Foundation in November and December 2021. Our current core team of 4 is made up of a conservation cartographer and a conservation communicator who work closely with our programme manager and director.
Our on-going independent initiatives are a) the Clearance Mapper, b) the UAV for Conservation in India, c) the Ghost Gear Technology Project and d) the Reimagining Coasts Initiative ( a joint venture with Eco-Niche). We've provided a little more information on these projects further below.
Our collaborative projects are with conservation journalism organisations and with NGOs. For the first, we're currently collaborating with Mongabay-India to produce maps of various kinds to accompany articles on wildlife and environmental conservation. With NGOs, we currently have on-going projects with Dakshin Foundation, WWF-India and the Wildlife Conservation Trust (WCT), among others. We recently completed the first of two field trips to Bihar, with WCT, where we used UAVs to study Gangetic dolphins and gharials.
Progress on the goals listed while on-boarding
Our goals for the 2021-24 period are to collaborate, innovate and educate. To meet these goals, we're developing projects in collaboration with our partners and conducting our own independent technology projects that will assist the larger ecosystem of conservation practitioners. To promote the effective use of technology for conservation, we're giving talks and seminars, conducting workshops, writing blog posts and participating in panel discussions.
A sample of our recent talks:
A workshop on the use of robots for conservation, for ENVIS/WWF-India's 2022 cohort of the Green Skill Development Programme.
An invited talk on Technology for Wildlife Foundation's work at the Outlook India Responsible Tourism Awards 2022, held in Hampi, Karnataka.
A panel discussion at the International Congress for Conservation Biodiversity (ICCB) on the role of conservation science in the 21st Century
Aside from our various collaborative projects, we've also initiated our own, which are designed to assist the larger conservation community in India.
Independent Initiatives
a) Clearance Mapper Project
We are building expertise in using PARIVESH (www.parivesh.nic.in), the government portal that provides information on forest, wildlife and environment clearances provided by the government to development projects around the country. We are also making clearance data more accessible to the general public in two ways; firstly, we are putting out educational material on how this data can be used for conservation purposes, and secondly, we are working towards creating tools which allow for easier access and analysis of this data. More information is available in this blogpost…
b) UAVs for Conservation in India
We are creating a report documenting the use of UAVs for conservation purposes in India over the past few years. Interviews are being conducted with conservation practitioners and UAV operators across the country, and we're collecting a very interesting set of use cases that will be published in the public domain. Shivali Pai, a researcher at the Liverpool John Moores University in the UK, is working with us on this project.
c) Ghost Gear Technology Project
In June 2019 we completed a report on the use of technology to locate abandoned, lost and otherwise discarded fishing gear, commonly known as ghost gear. We re-opened this project in September 2021, and are currently in the process of updating our research and preparing a manuscript for publication in a peer-reviewed journal. Our intention is for this paper to assist with the mapping of target areas for ghost gear removal, thus reducing the threat to marine wildlife. Dr. Meredith Palmer joined us as a research consultant on this project in November 2021.
d) Reimagining Coasts Initiative
The goal of this initiative is to create a financially sustainable coastal conservation model that leverages modern technology and the nascent ecosystem-services market.
This initiative comprises research and innovation that inform collaborations and conservation strategy. We are analysing data acquired from UAVs and satellite imagery to rapidly and accurately assess ecosystem services provided by mangrove forests and seagrass beds. We've put together project designs for work in Goa, and have also initiated collaborations with Panchabhuta Foundation (Karnataka), Farmers For Forests (Maharashtra) and with Praja Pragathi Seva Sangham (Andhra Pradesh).
Any challenges
The third wave of the Covid-19 pandemic in January 2022 delayed both field work as well as our search for a permanent office space in Panjim, Goa. Conversely, the open window for travel in March and April 2022 has led to a high demand for our services, which has led to a heavy workload for our team. We are managing this by prioritising urgent tasks, and are making full use of GSuite, Slack and Asana to work efficiently.
With our growing team, managing payroll and compliance were also becoming more complex. Thanks to assistance from Tech4Good Community, we were able to connect with Razorpay and are now enthusiastic users of the Razorpay HR & Payroll toolkit.
Any new avenues of collaboration (with other Grantees of RCF or other NPO/NGO)
Under our Reimagining Coasts Initiative, we are collaborating with fellow RCF grantee - Farmers for Forests by working with their forest protection and mangrove reforestation pilot study in Raigad.
We are also working with Dakshin Foundation on developing methods to effectively use UAVs for turtle conservation in Odisha.
Highlights from the initiatives being undertaken as part of your organization
**We've been assisting the #SaveMollem campaign with spatial analysis support. The campaign as a whole was awarded the Sanctuary Wildlife Service Award 2021 at the Sanctuary Asia Awards.
In 2021, our Reimagining Coasts Initiative was selected to join the Land Accelerator Asia by the World Resources Institute.
Also in 2021, Technology for Wildlife Foundation was selected as an ESRI Conservation Program grantee.
At the Outlook India Responsible Tourism Awards 2022, Technology for Wildlife Foundation was recognised as 'One to Watch' in the Sustainable Conservation Leadership category. This award was handed over to Shashank Srinivasan by the Karnataka Minister of State for Tourism, Ecology and Environment.
Also in 2022, we have been nominated for an AirWard in the Survey and Inspection category.
Outcomes you are chasing for the next 6 months (these can remain the same if unchanged since the last update)
We will complete and publish our work on both Ghost Gear Technology and the Use of UAVs for Conservation in the next six months. We also hope to make significant progress on our Clearance Mapper project, with the development of a usable tool. Our collaborations are proceeding apace; we will be revisiting the Gandak river after the monsoon is complete to conduct the second phase of our dolphin and gharial surveys in collaboration with the Wildlife Conservation Trust. As part of this project, we'll be initiating a collaboration with IISER-Bhopal to use computer vision to identify the target species in UAV imagery. We also hope to be able to work in Ladakh later this year, on marmot and pika surveys, and in Odisha, on olive ridley turtle surveys.
KPIs (please use this section to let us know of the impact and reach of your work since the last update)
This is our first update!
Can Rainmatter be of help with anything at all
We're looking for assistance on data architecture for our Clearance Mapper platform. While we have narrowed down on Amazon Web Services, technical advice on how best to set up our code and database would be very helpful.
Any additional details you would like to provide
We blog extensively about our work at www.techforwildlife.com/blog, and are also very active on Twitter and Instagram (@techforwildlife).
Please also share any images or videos that you have documented as part of your work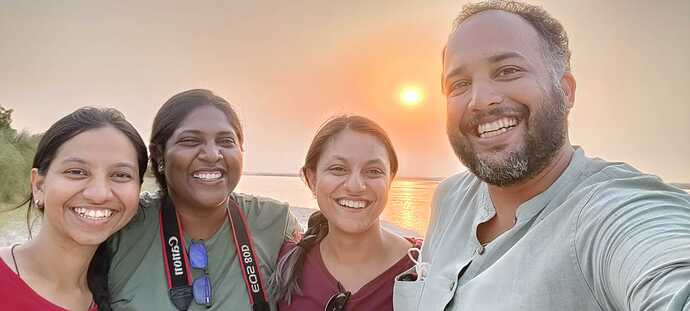 A Technology for Wildlife Foundation team selfie (as of April 2022)